75th Anniversary of Pearl Harbor Honor Flight, w/ Gary Sinise and some brave Marines
Comicon 2016, Captain America's 75th Anniversary
with a Pearl Harbor Survivor at the 75th Anniversary Honor Flight
With the Los Angeles Police Band at the National WWII Memorial
with comedian Michael McDonald
With Emcee/Comedy Juggler Bryson Lang
With emcee Bryson Lang in our "Tribute to the USO" show
At the Honor Flight for the 75th Anniversary of Pearl Harbor
The Swing Dolls on set of "Gilmore Girls"
With Santa at a private holiday party
With Music Director Steve Rawlins at the beautiful Spencer Theatre, Ruidoso, NM
Performing at Penns Peak as The McGuire Sisters
With Tommy Lasorda at a private event honoring Louis Zamperini
The Swing Dolls on WB's "Gilmore Girls"
With the Captain of the American Airlines Honor Flight for our Pearl Harbor veterans
The McGuire Sisters, Bob, and Lucy! Holiday show at Turning Point Casino
Veterans Day Weekend in La Habra, CA
Singing "Sugartime" for a Zoom Handy Recorder Artist Series
The Swing Dolls with one of LA's finest
With Scott Bakula, Vivienne and Don Bellisario, Joe Mantegna, and dancers.
Style Fashion Week with Alicia Estrada of Stop Staring
The Greatest Generation event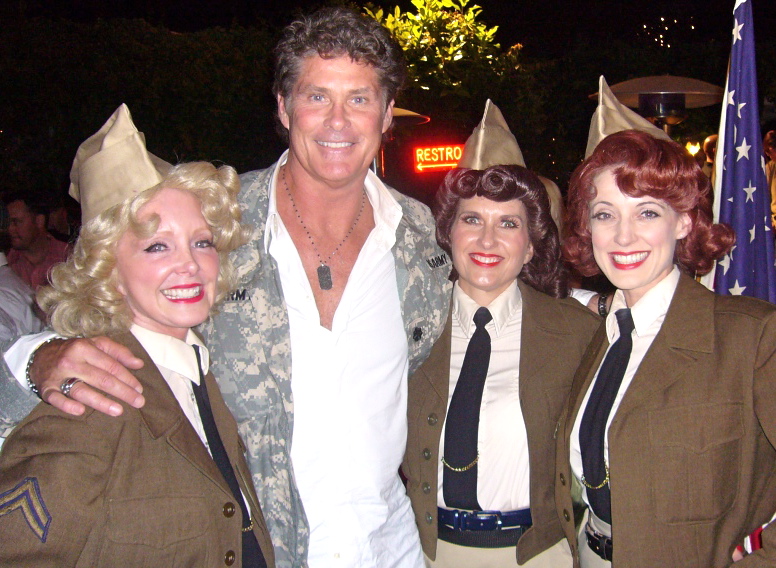 The Swing Dolls with David Hasselhoff
With Pearl Harbor survivor at the 75th Anniversary Honor Flight
At the Playboy Mansion for a Wounded Warrior Project event
American Airlines Honor Flight sponsored by the Gary Sinise Foundation
As The Andrews Sisters with Bob Hope in a 1940's USO Show
Don Bellisario's birthday party!